Preferred Partner of Seniors Lifestyle Care
Terry Lynch – Durham & York Regions Certified CHIP Reverse Mortgage Specialist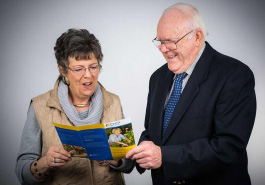 Terry is a licenced TMG mortgage agent, based in Whitby,specializing in CHIP Reverse Mortgages as well as conventional residential mortgages, and can help you find the right mortgage to suit your needs.
A CHIP Reverse Mortgage is the simple and sensible way to turn as much as 55% of the value in your home into tax-free cash you can use today!CHIP is for senior homeowners age 55 and older. Why not call me today, you could have up to 55% of your
property's value in your bank account within a very short time. Just a few of the benefits of a CHIP Reverse Mortgage:
You maintain ownership and control of your home while enjoying all the benefits of having converted some of its value into cash.
Use the equity in your home to help your children buy a place of their own, take a trip, buy a new car, the list is endless!
You can receive up to 55% of your home's value (determined by appraised value and your age(s)
You receive the money tax-free, since it is a loan so it is not added to your taxable income.
No payments required while you or your spouse live in your home.
Your estate is well-protected.
Senior Lifestyle Care Premium Members obtaining either a Reverse or a Regular mortgage through Terry can receive up to $200 in Visa prepaid cards.
Contact me today!
Terry Lynch
CHIP Reverse Mortgage Specialist, Durham and York Regions, Ontario.
I worked with Terry back in the late summer of 2012 when re-mortgaging my property. I was told about Terry from a friend. I was very pleased with the service that I received from him … very helpful, knowledgeable and friendly. I would definitely call Terry back when I'm up for remortgaging! All the best to you Terry, Take care, David
David Forget
Oshawa
Terry I just wanted to take a moment to thank you for all of your help with my sister's mortgage. Both her and Rob raved at how helpful you were and how easy you made everything. I hope you are keeping well and after your dealings with my sister and brother in law I would feel comfortable recommending you to anyone who is looking for help with a mortgage.
Glenn Tappenden
Whitby
Hi Terry, Thanks for the wishes. I have found you to be very personable, and very knowledgeable in your field and one who explains things in a comfortable manner. Your approach makes it easy for me to understand mortgages and gives me trust in working with you. Take care and good health. Patrick Meade
Patrick Meade
Ajax
Terry Lynch helped me with our first home purchase in 2010 and gave us tremendous help and support. He was professional and accommodating when it came to some last minute changes. Great Job Terry and Thanks for all your help!
Adam Bloetjes
Ajax
I haven't done mortgage business with The Lynch Group yet however I have worked with Terry on a variety of things. I have to say that each and every time is an absolute pleasure. You know he is super knowledgeable and passionate about the industry, and that he actually cares about you and your bottom-line. * HIGHLY RECOMMEND* that you check out his services!
Jamie Von Richtofen

Terry is very knowledgeable and extremely helpful! He is a pleasure to work with!
Carole MacChesney
Whitby
Terry to be very professional & helpful in obtaining mortgages for two properties. I have referred him to my friends & they also found him to be exceptional as he works for his client and not the banks! I would highly recommend Terry for securing a mortgage!
Deborah Meade
Ajax
Terry was extremely helpful in helping my wife and I get a mortgage for our condo in Toronto. He fully explained and guided us through what can be one of life's most exasperating processes. He was able to act as the expert middle-man between the bank and us. It was a pleasure to do business with you, Terry–thanks again!
Dana Lynch
Toronto
Terry was so very helpful in arranging a new mortgage for us. He went beyond my expectations. I would not hesitate to recommend him, very professional!
Margaret Graham
Toronto