Preferred Partner of Seniors Lifestyle Care

Master Accredited Senior Agent, CPCA, SRES Royal LePage Signature Realty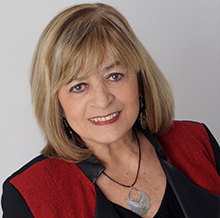 A Real Estate Salesperson since 1978 that is an Accredited Senior Agent specializing in the mature and senior market.  Magda's goal is to provide a more respectful and age-related experience for people over 50.She has the skills, knowledge and training to help families manage life transitions simply, easily, and with compassion.  As a Master-Accredited Senior Agent, she provides explanations on housing options including options for seniors to stay in their home.    Magda is pleased to offer her clients the following:
Complimentary consultations
Assistance with selling & moving household items
Visits to facilities with clients
Help understanding and dealing with mobility issues and dementia
Attend medical appointments and assist with transferring medical files
Work as the senior's family advocate when a senior has minimal family support
Assist in accessing financing available to assist seniors to make the right move
Ongoing support and follow up to ensure the senior is doing okay & their needs have been met
Magda works with other reliable and skilled professionals to deliver a full range of services for her clients.…she appreciates that thinking about the big step can be overwhelming but does not have to be. She is  happy to have a chat to discuss your options. Magda is offering Seniors Lifestyle Care Premium members that use her services, a $500 credit towards any related expense to the move.
Contact Info:
Office: 416-443-0300
Mobile: 416-704-7011
Email: lifestyletransitions@magdazecevic.com
Website: https://www.royallepage.ca/en/agent/ontario/toronto/magda-zecevic/34474/and www.magdalenazecevic.com and www.magdazecevic.com